From Left to right: Grand Master Lao Kim, Sifu Jopet Laraya and Grand Master Johnny Chuiten jr.
Sifu Jopet Laraya:
Born November 28, 1947 in Baguio City, Philippines and the youngest of six children.
Earliest exposure to martial arts was as a first grader in 1954 where ARNIS was taught as part of the physical education in the elementary grades. The VISAYAN style (waray) of arnis was learned in Tacloban City, Leyte, as part of the extracurricular courses. An offshoot of this art is a game called "SATO" using the long and short stick and playing rules comparable to baseball.
When the family moved north, he learned the ILOCANO style of arnis. He was also exposed to different styles of Chinese boxing from the parents of his Chinese classmates (Roy Lao, Teddy Yoro & Eliseo Young) A polish priest, Fr. Tom Bilzak, taught him some combat judo.
In high school, he belonged to the "DRAGON SOCIETY", a gang of high school students driving one-speed bikes. Fist fights and more often fighting with knives or sticks were frequent occurrences.
He joined the BETA SIGMA FRATERNITY in 1963 of the University of the Philippines. The elite group, the U.P. Beta Sigma Kung-Fu Karate Klan, headed by Johnny F. Chiuten, Jr., was the enforcing arm of the fraternity. The son and grandson of kung-fu masters in their own right, Master Johnny Chuiten was instrumental in moulding his martial arts training in all aspects. Concurrent training in the Shotokan style of the Japan Karate Association under Sensei Kunio Sasaki was also made available to him. Several colleagues and fraternity brothers exposed him to CHOY LI FUT, TAI CHI, PA KUA and HSING-I. Basic SEVEN PRAYING MANTIS was taught to him by Nelson Guerrero, top student of Shakespear Chan.
When the grand old man of Chinatown, Master Lao Kim, retired from his duties as Chief Instructor of the Hung Sing Athletic Association he eventually started teaching privately to a select group of students. His top student , Master Johnny Chiuten, was able to persuade him after several years to accept Jopet as his student. His training started with Lao Kim in 1965 and every so often he would be given an updgrading training by Johnny, as Master Lao Kim ( 104 years of age in 1988) had become afflicted by blindness.
Full contact sparring was emphasized in the fraternity martial arts group. As Johnny Chiuten instructed the secret agents of the National Bureau of Investigation in the Philippines, he often used Jopet as the training "dummy" of the agents for their grading tests.
Other colleagues who helped expand his knowledge of different martial arts include Ben Sto. Domingo (Aidido, Judo & Kendo), Noli Nolasco (Karate), Rene Navarro (Tai Chi), Boygee Ganza (Karate).
With migration to Canada, he joined the JING MO KING FU CLUB in Toronto, headed by Sifu James Lore & Sifu Jack Chin. With the pressure of university studies in Guelph, his training was limited to once a week driving both ways from Guelph to Toronto. While in Guelph, he taught marital arts classes at the YMCA. He moved to Oklahoma in 1973 for a year and also held classes at the local YMCA. With his return to Canada, he resumed his training at the JING MO CLUB. He set up his private small animal clinic in Oakville in 1976 and started teaching in 1977. In 1985, he decided to establish the Oakville Martial Arts Club. In August 1988, the club changed DRAGON TIGER KUNG_FU CLUB in honor of the club by the same name established by his teachers in the Philippines. In 1985 he became the sole certified instructor in LAPUNTI Arnis de Abanico and authorized to teach LAPUNTI.
In 2002 he returned to Hong Kong and after 8 years of searching, he was fortunately able to meet Sifu Lee How Chuen (Patrick). In 2010, he started his formal studies in Fu style Pakua. In 2012, with consent from Sifu Patrick Lee, Jopet introduced Fu style Tai Chi pakua to the students of the Dragon Tiger Kung-fu Club.
Sifu Jopet is currently heading the Pronus Supinus System of Grand Master Johnny Cuiten and representing the Great Grand Master Lao Kim's Dragon Tiger System.
"I HAVE FINALLY FOUND WHAT I WAS LOOKING FOR! Without Lee Sifu's unselfish sharing of his wealth of knowledge of the FU STYLE Tai Chi-Pakua and the original WUDANG SWORD techniques I would have been unable to experience the wealth, beauty and luxury of this specific style"
DR. Jopet Laraya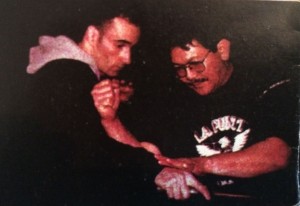 From left to right: Sifu Dave Ellsmere and Sifu Jopet Laraya
Sifu Dave Ellsmere:
My interest in Kung Fu started through my Brother Ronald. We would watch all the old Kung fu movies and the TV series when I was about ten years old. I also had a friend who's brother was a black belt in Shotokan Karate, he used us as training dummies and threw us around like rag dolls. These were my first exposures to the Martial Arts.
In 1980, I was lucky to find a flyer for Kung Fu lessons at the Oakville Martial Arts Club. The guy in charge, Sifu Jopet Laraya was a veterinarian and said "come back tonight at 7:00 for class." I didn't know what I was in for. All of the other students were over twenty, and I was only twelve. The second time I went to class, I got the crap beaten out of me. Sparring was a regular and important part of class.
As the years passed the training got more intense. The Hung Kuen style is very demanding physically. Our training emphasized low horse stances, isometrics, and interplay of Dragon and Tiger movements. Sifu Jopet introduced me to Hung Gar, Karate, Tai Chi, Stick Fighting, and Esoteric Yoga.
In 1986 Sifu Jopet introduced me to Lore King Hung—"Sifu Jimmy" of the Jing Mo Kung Fu Club Toronto. It was there that I learned another Hung Kuen style: 'Plum Blossom' and Chinese Lion Dancing. At one point, Sifu Jimmy was the top lion dancer in North America. It was extremely humbling becoming his adopted grandson. He gave me the Chinese name "Quoc Xiao Long."
In 2010 my Kung Fu brother Sensei John Rivers introduced me to his Jiu Jutsu teacher—Sensei Stewart. I trained with Sensei Rivers the art of grappling. I also studied Tae Kwon Do from Master Oii from Mississauga.
In 2014 I was introduced to Fu Style Pakua and Wudang sword from Sifu Jopet during his visits from Hong Kong.   It was during these training experiences that the idea of restarting the Dragon Tiger Kung Fu club was born. I made the commitment then to keep the spirit of this rare style of Hung Kuen alive, and like a phoenix rising out of the ashes our young club is spreading the knowledge of Dragon Tiger and Pakua for all who want to learn.
On a final note, I would like to thank all of the masters who have instructed me and who have been such an important part of my journey. "I am humbled before you." And to those who follow me, train hard because we all have a lot to live up to.
 Sifu Dave Ellsmere